"Mindfulness is about being fully awake in our lives. It is about perceiving the exquisite vividness of each moment. We also gain immediate access to our own powerful inner resources for insight, transformation, and healing."
Jon Kabat-Zinn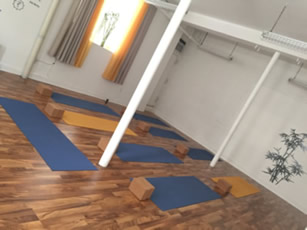 At One Yoga for All, we ask all Yoginis & Yogis to practice mindfulness, respect for themselves, others and the intimate space.
Reserve classes, events and workshops online.
One Yoga for All is an intimate studio, with limited space. By reserving online, your spot is guaranteed and it gives us a chance to plan for the number of reservations. Also, if class is cancelled, an email is sent to you as it is the only method we have of notifying you.
Please create an account after reserving a class (option will be available upon confirming reservation) as it will facilitate future reservations and tracking memberships and packages.
Please arrive at least five minutes to classes, events and workshops.
Leave your belongings at an available shelf.
Door is locked at start time. Please do not knock on door, as you will not be
let in.
Please remove shoes upon entering studio on rainbow rug.
Shoes are only allowed on the rainbow rug and by the chairs as you take off and put them back on, to enter and exit the studio.
Here's why we take them off:
Yoga is traditionally practiced in bare feet to help us feel stability and connect directly with the ground or mat under our feet
Shoes track in dirt, making the floor unclean. By removing your shoes, it helps to provide a clean environment in which to practice
The first of the five Niyamas, the moral virtues of Yoga that we yogis are called to practice, is Saucha, purity or cleanliness. External cleanliness refers to both the physical body and environment. Studies have shown that shoes can actually lead to transmitting disease and we want to remain both clean and healthy.
Turn off your phone
Phones are not allowed on, please turn the ringer/sound/vibration off.
Phone conversations are not allowed.
Check in.
Prior to setting your mat and after leaving shoes on available shelf, please provide your name to the person sitting at the desk (it may be the teacher).
We provide the props
Our environmentally friendly props are available for your use and cleaned after every class.
Please leave mats and blocks outside of the props closet, and kindly fold blankets and return other props used to the closet.
While getting your Yoga on
Breathe
Let us know how you feel about hand on assists throughout your practice by having the Yoga Flip Chip on your preferred option (Assist/No Assist)
No gum
No Cell phones
Yoga is a journey within, please refrain from talking
Please be compassionate to yourself
Breathe
Remember, this is your journey, so enjoy the present moment
You're encouraged to smile - We promise, your body, mind and soul will open a little more and facilitate a more joyful experience
Before you go
Do you have any questions, concerns and or feedback?
Let us know.
We are here to help.